Find a certified EMS Trainer!
Advantages of certified trainers
Are you looking for a qualified EMS trainer? Then look for a recognized EMS certification. The license guarantees that the trainer has completed a recognized and high-quality training program.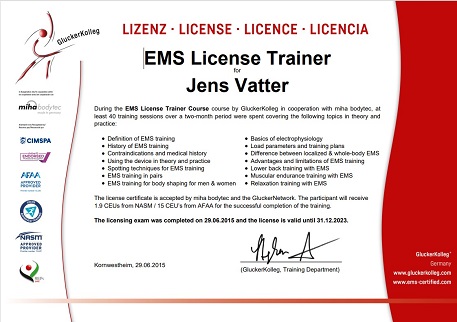 If you once obtained the GluckerKolleg certification, you too can register in this network. EMS Certified only accepts specially trained and certified trainers into its network. The GluckerNetwork is the first network of its kind in the world. Every trainer in our network has a sound basic education and one or more certified additional qualifications.
GluckerKolleg has been training certified personal fitness trainers, back instructors, nutritional coaches and of course licensed EMS trainers worldwide since 1997 under the motto "Made in Germany". At GluckerKolleg we guarantee that our licensed EMS trainers achieved all important expertise for qualified training and very best of customer care during the courses.